Digital Product
Product-Market Fit for expanding market demand
Product-market fit is a key stage in the digital product development process. Continuing the spirit of constant experimentation and validation, this stage is about fine-tuning your product to appeal more directly to identified market needs. It requires close communication with both the client and the target users.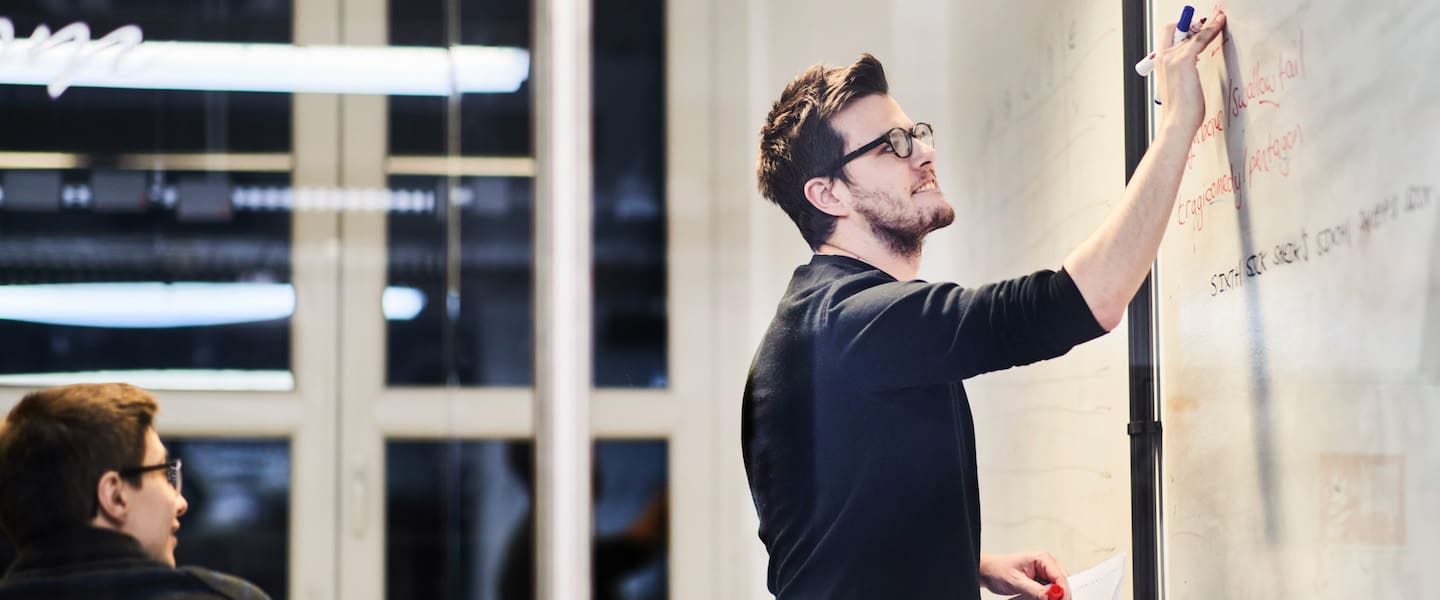 Dave Foxall
Blog Editor
Analyzing 101 startup failures, CB Insights discovered that the most common reason for businesses falling by the wayside was that there was, "no market need" for the product they were developing. That's a lot of startups working hard for a lot of months for nothing.
Which is one of the many reasons we at Boldare use a combination of the scrum framework and the lean startup approach to building products. The short design sprints and the build-measure-learn cycle mean that new iterations of a product are built and tested frequently with users.
The incremental approach, with constant evaluation and validation, keeps the development on track and focused on building a quality product that actually responds to market needs.
Whether we're with you from the very beginning of your product journey or you're coming to us because it's time to take your precious to market, we combine market analysis with agile development processes to fine-tune your product until it's just what users are looking for.
What is product-market fit?
Arguably, product-market fit is the first point of real success in the product development process. Everything prior to this stage is about inspiration, experimentation, and hard work. Once you have product-market fit, you know that you have something with value outside of your project, a product that is appreciated and desirable in the 'real world'. But what is it?
You have achieved product-market fit when you have a product that customers actually want and will pay for. Dan Olsen, author of The Lean Product Playbook, has described it as,
This means that your product meets real customer needs and does so in a way that is better than the alternatives.
As a term, 'product-market fit' was first coined in 2007 by World Wide Web Hall of Famer, Marc Andreessen, who defined it as, "the only thing that matters," for a startup. In fact, according to Andreesen, until you have product-market fit, there's no point tackling issues such as growth and scaling in your organization – it's that crucial a milestone.
How do you know when you have product-market fit? The exact metric or measure of success depends on your individual product-in-development and the market you're pitching at.
Part of the role of a Boldare product-market fit team is to help you define this criteria for your individual project. For example, your indicator of success for a new app might be an agreed threshold number of paying customers (who are not family, friends or otherwise your buddy).
You can also be interested in Full Cycle Product Development at Boldare
Why product-market fit is useful?
Once you're focused on product-market fit, your product is in the fine-tuning stage. Prior to this, you've tested and approved your initial concept and product idea, you've created working models (minimum viable products, or MVPs) to test the key functionality and design with the target group of users, but you don't have a final product yet. Your MVP might be useful, and even saleable, but it's not the version that fulfils your original concept.
Keeping the goal of product-market fit in mind, this is the time for fine-tuning: a rapid cycle of product iterations, honing individual features and testing them with users, then honing them further with the aim of producing something that truly stands out from the competition or, if it's a completely new concept and there is no real competition, something that blazes such a long trail that anybody following you will take a long time to catch up.
What are the benefits of product-market fit?
Achieving the point of product-market fit carries the following benefits:
Pragmatic – This stage of the lean startup approach has a purely practical focus. To be fair, right from the start, the question of market and users is integral to the project, but it's at this stage that you're closing in on that particular target, making nuanced adjustments.
Potential profit – Unless you're a billionaire making digital applications purely for kicks, sooner or later you'll want your product to start earning money. Product-market fit can be the difference between polite interest from your target market and rabid demand.
Impact on the team – Let's not forget the development team. They've been working for weeks, maybe months (maybe longer?) and now is when they see the product begin to take its final shape (leaving aside for a moment, any future changes as the market evolves). As author of The Lean Startup, Eric Ries has said, "When you see a startup that has found product-market fit, it's inspiring."
Business sustainability – Once you have a product that the market wants, that is clearly going to help your business grow.
Product sustainability – In a sense, market fit can lead to your product being quasi-independent of your business. Sufficient paying customers means that the product exists outside of your internal project team. Once it is out there and in use, its continued existence is no longer solely reliant on you; the product has a life of its own.
Product-market fit pitfalls
Of course, if you don't do it 'right' – i.e. fail to fit your product to the market – then once your budget/funding runs out, your business is unlikely to have a sufficient revenue stream to survive. You may have the illusion of some short-term success, but your customer base will not grow, your product will not be profitable, and you'll be back to square one.
How to achieve product-market fit – the Boldare process
As mentioned above, here at Boldare we use the lean startup build-measure-learn cycle combined with the agile scrum framework to help develop your product. As a general overview, when we are involved in product development from the very beginning, the process is as follows:
Product basis – product vision workshops enable us to explore, understand and validate the product concept, resulting in a shared understanding of the product vision.
General UI/UX prototyping – we develop a user interface (UI) concept (often in the form of a clickable wireframe prototype), followed by the graphic design of the product (using mood boards to test options). Wireframes are used to explore different UI ideas and lay out the basic structure of the product architecture.
Minimum viable product – A stripped-down version of the product, with real, usable functionality, is used to further test the product and guide its development.
Product-market fit – repeated iterations are tested and the results analyzed to achieve a perfect fit for the market.
As with the other stages of the development cycle, during the product-market fit process, it is important to us to work collaboratively with you, the client. We apply our expertise and experience but we do so openly and in constant communication with the client via the development team's Product Owner (a role filled by a representative of the client company).
What's more, we see our role as including passing on our knowledge (of the relevant processes, techniques, etc.) to your people. This enables you to take on a development role in-house and puts the project in the context of your overall digital transformation journey.
Product-market fit in practice – BlaBlaCar, a case study
French carpooling platform, BlaBlaCar had 24 million users and a lead position in the marketplace. Wishing to build on this position, the company's goal was to expand into 27 new countries, with a variety of individual legal and cultural requirements. The secondary objective was to add new and improved features to the app, thus expanding its appeal to potential users who may have been hesitant in the past.
The final factor in the project was a shift in BlaBlaCar's branding, moving away from being purely a transport option (a way of getting from A to B) toward being a more social application, focused on sharing your journey with interesting people.
The Boldare team applied the technique of funnel optimization, the 'funnel' being the customer journey through BlaBlaCar's website and app to the point of commitment; in other words, the user experience.
Optimizing that funnel involved testing each element – landing page, calls to action, booking process, etc. – and looking for opportunities for improvement with the goals of boosting user satisfaction, increasing the user population, eliminating any weaknesses in the existing product, and adding genuinely valuable new features. New or enhanced features – for example, a route-planning feature that enables drivers to find more passengers – were then A/B tested against the existing product version with chosen groups of users.
Summarizing product-market fit
Product-market fit is all about fine-tuning a digital product to match the target market of users as closely as possible, aiming to create the product that best meets that market's requirements. The concept has been proven, the look and feel and functionality of the product are accepted, it's time to polish the product for real-world use. Back to Marc Andreessen's original use of the term:
The life of any startup can be divided into two parts — before product-market fit and after product-market fit.